GLOBAL SPIRIT SOUTH EAST ASIAN TOUR
The jazz quintet, Global Spirit, embodies the point at which the music of four countries meets. The language of jazz improvisation provides a sufficiently malleable art-form that can be used to communicate between musicians from vastly different backgrounds. These different but related styles unify into a collective voice that homogenises the otherwise dissimilar compositions of the ensemble's members create a unique blend of European and Asian expression.

The quintet is led by British saxophonist/composer Greg Lyons whose own background in Europe and America has produced a style derived from a combination of the 1970's jazz-rock scene, blended with contemporary bebop and then heavily influenced by Brazilian and Cuban music. More recently, his presence in Asia has infused his music with a new flavour and created a wholly personal take on world music witha hard-edged improvisational angle.

Add the phenomenal Finnish pianist/composer Jarmo Savolainen, whose dark modal style reflects his embrace of the most contemporary of US styles with a large dose of Scandivanian coolness. Jarmo spends much of his time in New York playing and recording with the cream of the contemporary jazz scene, and has also lately been touring frequently in Latin America.

British trumpeter Damon Brown has spent most of his life making a name for himself in the European jazz circuit. His playing reflects a debt to the great bebop trumpet players, but his bag of tricks belies knowledge of diverse styling from reggae to free-jazz. His compositions reflect a mix of hard-bop and modal.

Then consider the inclusion of Malaysian percussion master Lewis Pragasam, a highly regarded drummer and educator whose style displays the virtuosity and discipline of the Indian classical tradition as well as the freedom of modern jazz. He brings to the ensemble an incredible arsenal of polyrhythmic dexterity that feeds and builds the group's improvisations to dramatic effect.

The pulse of the band is with Californian bassist Christy Smith, representing the continents of both America and Africa. His incredible diversity as a musician is utilised here within the broad stylistic compass of this ensemble. His solid underpinnings are the perfect foil for the fervent polyrhythms of Pragasam and the two provide an intense and inspiring platform for the others.

When all five members of the quintet come together, it will definitely be quite a performance unlike any others.

Master Class with Global Spirit
18th March 3.00pm
Kuala Lumpur Performing Arts Centre

Whether you're a student of the art of jazz improvisation or just inquisitive about the processes that go into a jazz performance, then don't miss this chance to hang out with some of the most accomplished contemporary jazz performers on the planet.

We will be conducting a two-hour master class involving the whole group where we will explain our viewpoints on what makes the music happen. This will be a chance for budding players to join the band on-stage to get an assessment of their musical prospects and to get a feel for what a great jazz group might feel like.

For those of you who caught Damon in KL or Singapore last April, and for those who witnessed my quartet with Jarmo 5 years back, the quality of what's on offer is clear.

This is the most exciting and cutting-edge improvised music you will hear in a very long time!

Duration : 16 - 18 March 2006
Venue : Pentas 2
Price : RM50 (50% discount for students, the disabled & senior citizens)
Presenter : Greg Lyons and KLPac
The Kuala Lumpur Performing Arts Centre
Sentul Park
Jalan Strachan
Off Jalan Ipoh
51100 Kuala Lumpur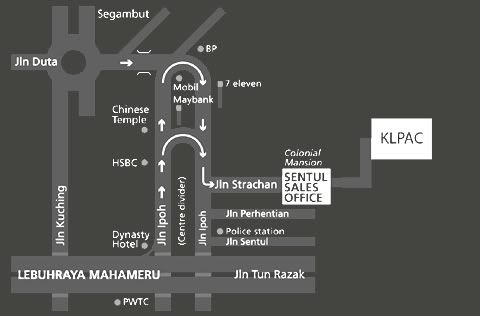 General Line: 03-4047 9011

Box Office: KLPac 03-4047 9000 / tickets@klpac.com or The Actors Studio 03-2094 9400 / ticket@theactorsstudio.com.my
More info, music and pictures at http://www.greglyons.net/

The Global Spirit Asian Tour is proudly sponsored by
For more information, please contact Greg Lyons at overtone@streamyx.com
Pictures and show synopsis courtesy of Greg Lyons and KLPAC
---------------------------------------------------------------
GRUVAVENUE @ AVANTI'S FRIDAY NITE JAZZ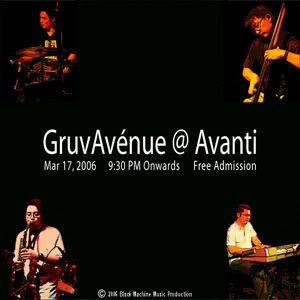 Local Jazz Band on the rise – GruvAvénue will rock the house. This time the group will take the elegant seductory sounds of smooth jazz and infuse it with the vivacity of pulsating drum beats. Rather than limiting itself to a purely nostalgic standard jazz music format, this performance will showcase an array of musical diversity from soulful ballads, traditional swing, R&B, Hip Hop, dance beats, to original compositions from their debut album.

GruvAvénue is Vincent Ong (double bass/bandleader/composer), Charles Wong (drums), Clement (keyboards/piano), and special guest Julian Chan (saxophones).

Brought to you by Black Machine Music Production and Avanti Italian American Ristorante this
March 17, 2006. 9:30 PM Onwards. Free Admission.

Band Links: http://www.blackmachine.com.my/gruvavenue.html
CD Available: TOWER Records nationwide and selected ROCK Corners.
Band Enquiry: gruvavenue@gmail.com
Venue: Avanti Italian American Ristorante, Level G, Sunway Lagoon Resort Hotel.

Hope we can see you guys at either of the gigs!

SUPPORT LIVE JAZZ IN KL!