So hear I am, in a cyber cafe, just about to start writing about my Taiwan trip and the concert with Jonathan Lee (aka Lee Zhong Sheng). As of writing, I'm just about a few hours before our flight back to KL, me and Eddie are in the cyber cafe just opposite the "love" hotel we're bunking in for three days... we're both internet junkies for sure. This post will be a work-in-progress for the next couple of days, until I've finished writing about it, and putting in the pictures once I've uploaded it from my camera.

Anyway, just a short comment about the trip... it's been just great! The show itself was an amazing experience, and I hope we (the horny horns section) did Mac and Jonathan proud. We got to meet and know quite a few people, including the artistes themselves. I'm looking forward to the Shenzhen show in about 10 days time. Anyway, the whole trip itself was so fun, and Taiwan is such a warm place to be in. Although we know that there are crazy stuff happening in Taiwan, such as triads and stuff, but the general populace has been quite warm. It didn't take us long to get used to things here. Not to mention the food, we've been acting like hogs (me and Eddie at least), eating whatever I could try! I know I've definitely put on a few kgs... I've even resolved to try to lose weight and burn fat in the next 10 days before my Shenzhen trip (another eating trip, I heard!).

Anyway, here it is:

Day 1 - Sun 30/4/06

Spent the night, or rather the early part of the morning, packing my bags. I had only come home from my Happy People gig at Alexis around 3am, or so. I had lots of stuff I had to pack, as I was going to be there for ten days! That's a lot of stuff to pack! I even did a travel list, to list down all the stuff I'll be bringing there. Oddly enough, I finished in about two hours, and even had some time to blog, and get a few hours of sleep.

Woke up around 11am, and my dad and bro sent me to the airport. I got there, and I saw Aji and Gary already waiting. Eddie and Roger showed up next, and the rest eventually did. We did the usual - check-in, exchange currencies, and headed into the terminal, and boarded the plane. The travel time took around four and a half hours, and I managed to watch Narnia on the plane - nice movie, by the way!

We touched down around 8pm or so, and our transport took us to our hotel we'll be staying in for the next seven days - SHERATON TAIPEI! Woo hoo.. nice hotel! After our room allocations (me and Eddie got bunked), we housed ourselves in the room, and shortly headed out for dinner with the band. We were taken to this nice porridge place Mac and Jenny usually go to, and it was an interesting culinary experience. The dishes were all laid out in two counters (one for vegetarians, and one normal), and we just had to pick out whatever dishes we wanted, and the waiters will send the porridge to our table. So we took an assortment of dishes - mine vegetarian, of course - such as tofu (both normal and smelly - yes, smelly tofu is a common food in Taiwan), cucumbers, beans, and green veges, and of course the other fellas all took some interesting meat dishes. The best part, it was really, REALLY tasty.. there weren't any leftovers at the end of the feast!



Hangin' at the airport (l-r: Ameer, Gary, Ah Wa, Jian Qing, Eddie)



Taiwan flag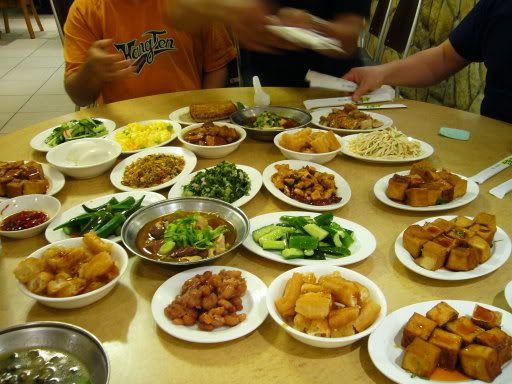 Before...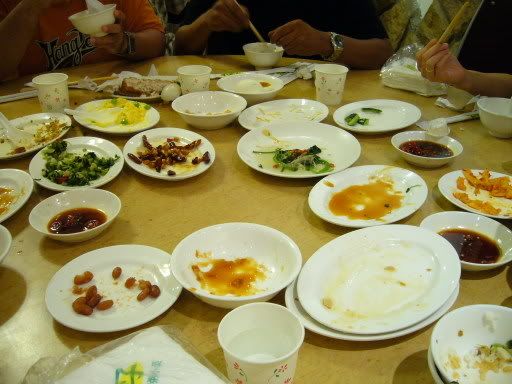 ... and after!!
We then headed back to the hotel and
raided
the 7-11 just behind the street - which is a dime a dozen here... you can spot like five to ten outlets in a 500m radius! - and got some supplies and snacks. After checking out the many local channels (including pay-per-view previews,
yes there was porn too!
), we just hit the sack.
Footnote: One of the few things I noticed when I arrived in Taiwan was how friendly and courteous Taiwanese were. And I could sort of understand their Mandarin, and they do speak some English as well. We didn't take long to get used to things here. Food was so great, we expected this trip to be a binge-fest, and how it turned out to be one! More on that later.
Day 2 - Mon 1/5/06
I couldn't wake up early enough to go the gym. I was so bumped from the last several days (weeks, in fact), where work was aplenty, and late nights as well. But we woke up early enough to raid the hotel breakfast, which was wonderful for my standards - scrambled eggs, french toast, blueberry pancakes, assortment of fruits and muesli, assortment of breads! And they were cooked real nice too!
Later in the afternoon, the band were all taken to the rehearsal studio, which was a converted warehouse space, in a middle of an industrial area (it was next to a junkyard!). The studio was really big and beautiful, we could fit a whole orchestra in. Took about an hour or so to set up, do the soundcheck. Had lunch and got on with the rehearsals. Jonathan was there throughout the practice, and Fish Leung came in as well to do her tunes. It was a large band: with 3 horns, 3 keyboards, 5 backup vocals (one of them plays violin), drums, percussions, two guitarists, and Jonathan on acoustic guitars as well. We ran through some of Concert Day 1 songs, and some from Day 2.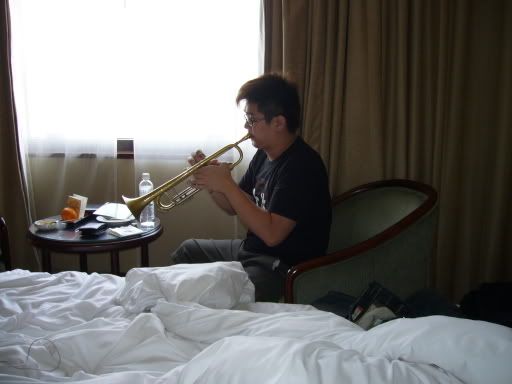 Eddie doing some last minute warm-ups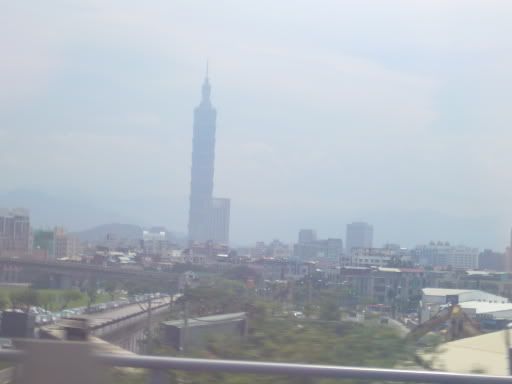 View of the Taipei 101 tower



Setting up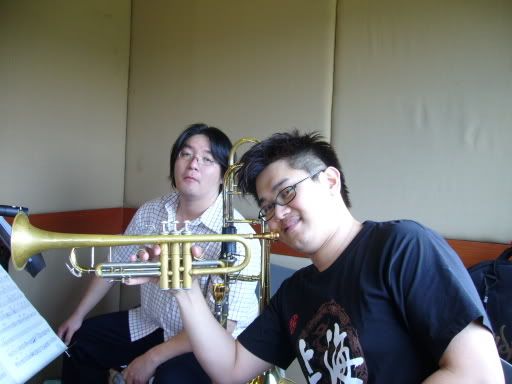 Brass clowns..;)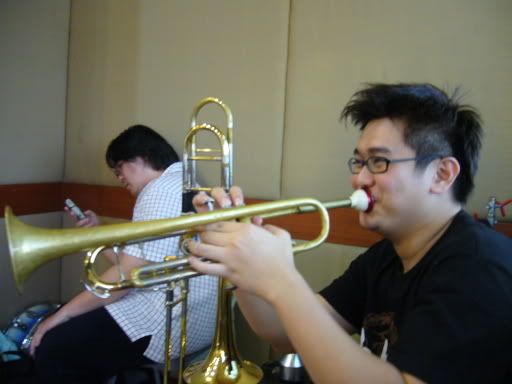 More clowning around!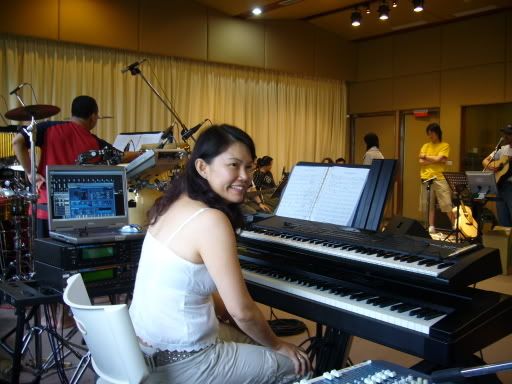 Jenny Chin already relaxed in the studio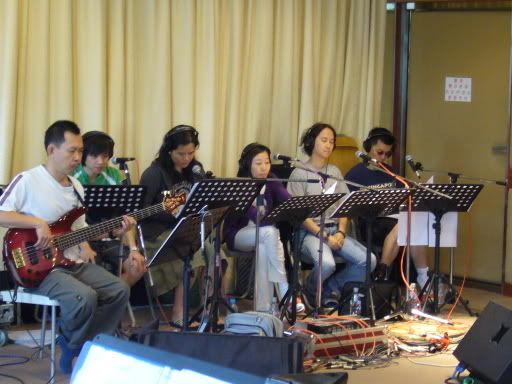 Ah Wah with the backup vocals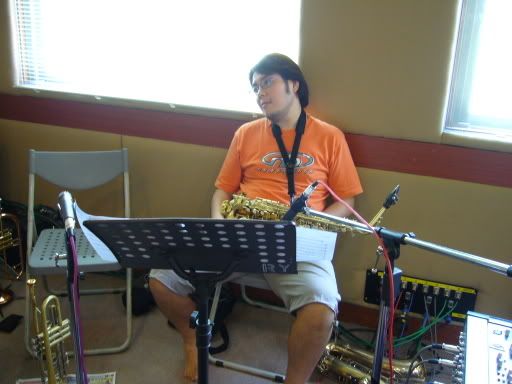 Me chillin'



Test, test, 1-2-3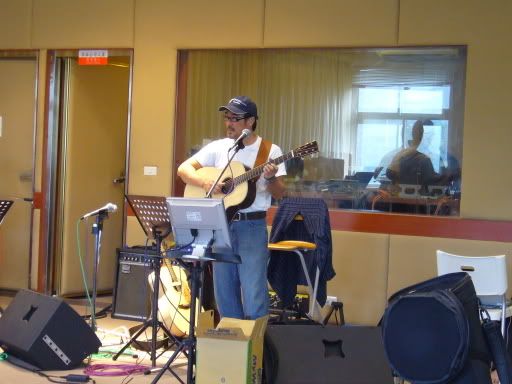 Time to start rehearsals!


After rehearsals, we headed back to the hotel to refresh ourselves before going out to the night market at Shilin. Had more food there, of course. I tried the
peanut-sesame cold noodles
and
minced beef rice
(all vegetarian of course), and some smelly tofu. We all then had some ABC-like iced-mango dessert, where we had crushed ice with mango on top! It was crazy. Second night and we were already binging.
Day 3 - Tuesday 2/5/06
Woke up early for breakfast, napped a bit more, and headed to the gym around 11am. Did about 30 minutes of workout on the treadmill and stationery bike. It was rather dreadful for me, at first, because I just don't like working out in a gym too long. Then Mac, Jenny, Ameer, Roger, Eddie and myself took a short walk to the IT mall nearby known as K-Mall, to check out some computer and electronic stuff.
We were then taken again to the rehearsal studio for another round of rehearsals, this one mostly Concert Day 2 stuff, which is less than Day 1. So the horn section was relaxing a lot more this time around.
Later at night, we went back to the Shilin night market again to have some food there, and we walked around it a little more, as we didn't get to walk all of it the previous night. I got myself a nice sling bag I can carry around with all my stuff that I usually carry. When me and Eddie got back to the hotel, we went to internet cafe nearby to check our mails and update our blogs a little bit.
Update: Just found this cool function on my photo host, here are some more pictures.

To be continued...