Here's my account of the China trip:
Day 1 (Monday 28/3):
12am - Rushed from Actor's Studio Theatre from the 50 Cents Jazz Show to KL Sentral and grabbed the last KLIA Express Train. Got there in time, thankfully. Our plane took off at 1:40am. I'm already exhausted, so I just listened to the inflight Jazz radio channel, makan-ed plane food, and nodded off.
5-something am - Touchdown at Pudong Airport, Shanghai. It was cold, around 10 degrees C, so we took out our jackets (last worn in Perth over 4 years ago) and worn them. Met our tour guides (Malaysian manager, as well as a national guide, Xiao Jiang), bus, et al, and first destination was a eating place a few minutes from the airport. Had porridge and condiments for breakfast. Cooking tastes different, china-style I guess. After that, we headed for Suzhou, at about 2 hours bus ride. Thank God for my iPod to keep me company! But I started to develop this sore throat, which was already brought forward from the day before. Weather was very cool, but very gloomy, like mist or haze.. not sure.
Reached Suzhou and our hotel, and I had lost my voice. Brief description of Suzhou: fairly big town, but with very low-rise builidings. Looks slightly less developed.
Checked in the hotel, rested for about an hour, and we gathered and left for lunch. There were 9 vegetarians in our group, so we were grouped in one special table. Vegetarian food is mostly stir-fried vegetables, but cooked very, VERY oily, loaded with MSG, and salt. Sometimes almost tasteless. After lunch, we checked out some beautiful garden place, with a 1000-year old pagoda up the hill. The local Suzhou guide, Fong Ling, talked a lot about the history of Suzhou. But I almost slept with my iPod in my ear, cos tired, too lazy to listen. So I missed most of the commentaries.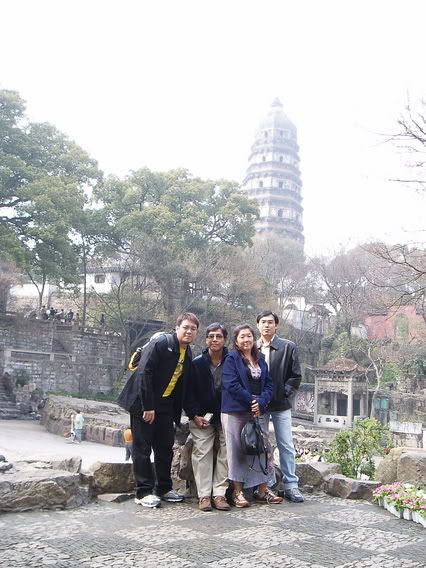 Us at some pagoda garden in Suzhou


Next we went to another temple where there was, uh...I dunno what was the significance.. too distracted to listen. But just another temple. There was a bell tower, we paid some money, and we were given a chance to hit and gong the bell 3 times for good luck.

Me hitting the bell three times at the bell tower in some temple (Suzhou)

Next, we were taken to some embroidrery place, and shown how intricate embroidreries were done. Had one piece of Mao Tze Tong, and another of Princess Diana. From afar, they looked like photographs, but they were actually pieces of embroidrery, which took at least 3 years to stitch, depending on the level of complexity.
Then, we went to eat dinner at this funny restaurant called Shangelila (Shangrila in Mandarin pronounciation! hahaha.. how ridiculous). They had some inhouse entertainers playing pipa and singing. First two songs were complimentary, subsequently, she takes request... paid request. About 20-30RMB Yuan a song! That's like rm10-20 a song. Gila.
Next, we were taken to a "night market", which is actually just a shopping pedestrian street in the main city area. No biggie. Too lazy to buy stuff. Went back to hotel after that to crash.
Day 2 (Tuesday 29/3):
6:30am - Bloody wake up call.. wake up so damn early for what??? Had porridge again, for breakfast at the hotel. Ate a lot.
Went to some other nice garden-y place. I also dunno what it was, I just followed only. Saw some funny rock formations in the garden, and also how living rooms and houses were like at some old period (iPod still in my ear...).

Our tour group in Suzhou


Next stop, silk factory. Shown the silk making process. Bought 4 pieces of silk quilts and silk quilt covers, and 6 pieces of silk pillows. Crazy. A pattern is starting to present itself, in all these travel-designated spots... more on that later...then lunch.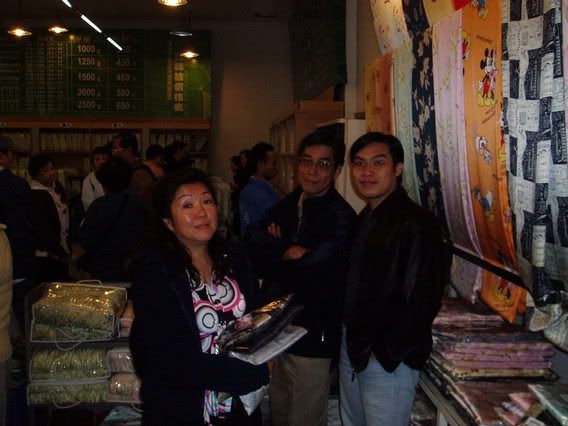 Buying silk stuff in Suzhou



After lunch: Left for Wuxi, our national guide, Jiang's hometown. Wuxi looks a little nicer, more well spread out development. Suburban area very nicely plotted out. First place we went to was the Three Kingdoms City. Weather also a bit more cooler. In the City, there are three palaces for each Kingdom. There was also a live show, with horses and stuff. It was a war simulation, with horse-riders dressed up as generals and soldiers going to war between kingdoms. Very cool. There was also a boat ride around the Taihu lake, a clear-water lake in Wuxi.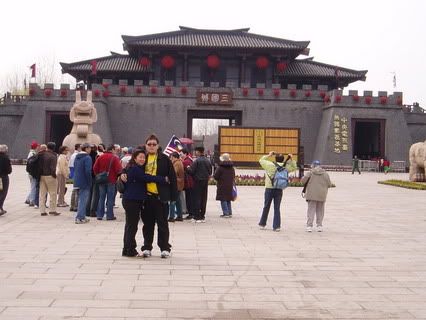 Me and mum at Three Kingdoms City entrance (Wuxi)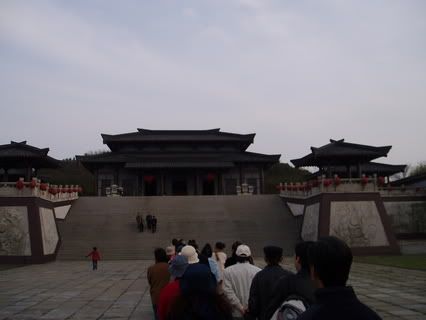 One of the Three Kingdoms palace (Wuxi)

After the 3 Kingdoms city, we went for dinner, and then visited the main city area of Wuxi. Looks like a big portion of Singapore city and Bangkok city.. a cross between the two. Went shopping at Parkson (in China? Wow.. cool!). Bought two nice sweaters for myself and my brother, from Jack and Mac (some American brand) or something like that. This is to prepare our trip up the Yellow Mountain. Later we checked into our hotel to retire for the day.
Day 3 (Wednesday 30/3):
6:30am - Damn wake up call again. Shit. Had porridge.. again.. for breakfast.
Checked out of hotel, and took a trip to the Teapot Making House in Wuxi. Showed us the largest teapot (not sure if in China or what). Then we had an introduction to the process of making teapots. Very artistic way of doing it, with different designs and ideas. Mum bought a very interesting set, at about 1000 over yuan.. can't remember. Crazy.
Next stop, the Pearl factory. Showed us how they make pearls, from ornaments to even facial cream and medicinal use. Mum bought a pearl set - necklace, earrings, and ring. And got some free pearl medicinal stuff, like the ones you apply on your face to avoid it from drying from the cool weather.
After lunch: 3-over hour bus ride to Tongxi old city, the foot of Huangshan (Yellow Mountain). Thank god for the iPod again! Stayed at one of the nice hotels in Tongxi and dinner.
Day 4 (Thursday 31/3):
6:30am - Bloody wake up call again... AND porridge (AGAIN!) for breakfast.. ugh..
..oh by the way, did I mention, that up this point, all the food we had for lunch and dinner sucks? Too much oil... too much MSG... too much salt.. and some totally tasteless... worse than bland.
Left the hotel with only a nights' worth of clothes change and supplies, and we went up Huangshan (Yellow Mountain). About over an hour's ride to the foot of the hill, and after lunch, went up the cable car to one of the peaks of the mountain. Then we had to walk about over half and hour trek (on stone pavements) to our hotel. Oh btw, to get up to the hotel, you either take a 5 - 10 min cable car ride to the lower peak, OR walk up 15km-long flight of steps to the same destination. FYI, to transport things up there (from construction items to necessities), labor-power is hired. They tie the items to a bamboo at each end and hold it up there shoulders like a scale, and walk up 15km-long flights of stairs up. So everything is more expensive up the mountain.
We reached the West Sea Hotel, checked in, and prepped for a trek up to one of the peaks of the mountain, a scenic spot. It took about over 30 minutes, and my mum gave up 3/4 of the way, because it was too much for her. Me, Dad and my bro continued up to the main peak, took some pictures and came back down to the hotel. Managed to get internet connection, and checked and cleared some mails. Wow, internet connection up the mountains. Oh yeah, I was on roaming on my phone, and China Mobile even works so high up the mountain.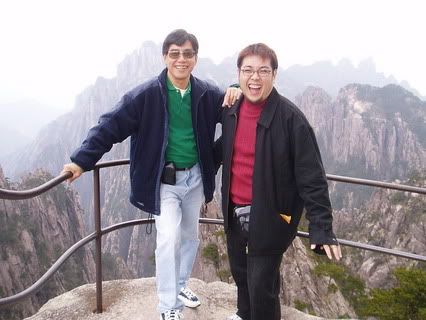 Me afraid of heights, and Dad at one of the peak of Huangshan (Yellow Mt)


The view of the gorge at Huangshan (Yellow Mt.)

Day 5 (Friday 1/4):
8:00am - Forgone the early wake up call (5am) to check out the sunrise from the mountains to sleep in (much needed). Had porridge AGAIN (ugh! double ugh!) for breakfast.
Checked out, and proceeded to check out some more scenic climbs. Mum went straight to the cable car station to wait for us.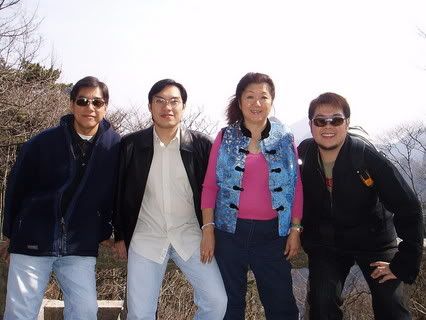 Us at Huangshan (Yellow Mt.)
After the cable car ride back down. We gathered at the bus, and went for a free foot massage... well, ALMOST free. There's always a catch. They wanted to promote their herbal massage medicines. Lame. Went for lunch. Then headed for Hangzhou in a 2 - 3 hour bus ride. Thank God again for the iPod!
8pm - reached Hangzhou tired and sleepy. Muscles already aching from staying in the bus too long. Had dinner in some fancy tourist restaurant. More oily, salty (but tasteless) and MSG-y food.. ugh. After that, we headed to our hotel, checked in and retired.
Day 6 (Saturday 2/4):
7am - Ahhhh... more sleep. Ugh Ugh Ugh!! More porridge and condiments for breakfast.. very bad ones, too! Ack!
11-something am: Took a trip to the Hangzhou West Lake Gardens, a 60-over sq km worth of gardens. We visited the big temple in the Gardens. More temples and stuff, no biggie. Next stop, Green Tea. We went to the area in Hangzhou where the best green tea is produced. Three types of green tea are produced in China: Spring (the best), Summer (second best), and Autumn (third best). Summer and Autumn tea are exported, while Spring tea are kept in China. Go figure. Mum bought rm450 worth of green tea. Crazy.
Then had lunch at the West Lake restaurant.. ugh, still full from breakfast. Then went to a ferry ride on the West Lake itself.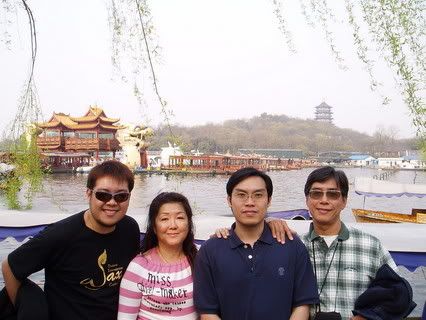 Us at Westlake, Hangzhou

Next stop, another high pagoda visit (from the White Snake Lady tale), the LeiFeng pagoda. Then we were brought to the Baoshutang Medicine shop... more promotional shopping. Boring. Mum also bought some medicine stuff. *sigh*. Later we had dinner at some Botanical Gardens. Then we went to the main city area.. for more shopping. It's a more metropolitan shopping complex. Didn't buy anything but candy titbits. Went back to hotel and retired.
Day 7 (Sunday 3/4):
6:30am - Wake up call again.. argh! Porridge again? Shit.. this time I ate only fried eggs, "man tau" (bun), and some corn for breakfast. No porridge for me.
We were then taken to the Water Village. It's a very old village with a river in between. It's about 600 over years old, like what you'd see in those Hong Kong medieval kung fu movies. Brother didn't feel well. After lunch, he threw up, and got sick with flu. After that, we headed to Shanghai on a 2 hour ride.
About 5:30pm: Reached Shanghai... a massive city, about 600 (or was it 6000) square km! First stop, Shanghai Museum. Then we walked to Nanjing St. where we saw the biggest shopping pedestrian street in China. Brother and Dad relaxed at McDs with a hot drink, while me and mum walked along the street just to look around. Bro still not feeling well.
Ate dinner at this Yunan restaurant, where they had traditional Yunan dancers doing some really nice tribal dance. Food still sucks. Brother didn't eat.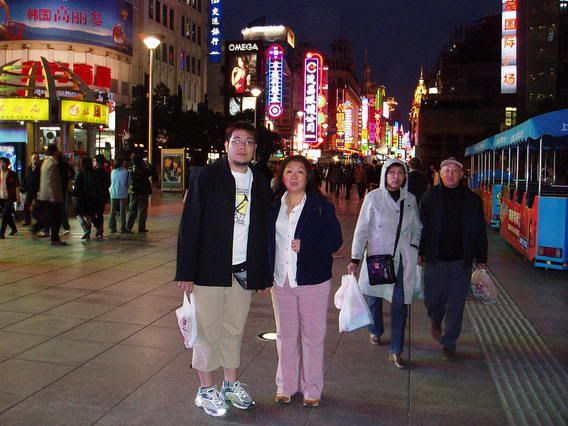 Me and mum at Nanjing Rd, Shanghai

Next stop, the Oriental Pearl TV Tower. The third largest building in China (or something like that). Went up 263m up to the second "Pearl" level, where we could see the massive stretch of Shanghai City from almost every corner, and also the Bund river.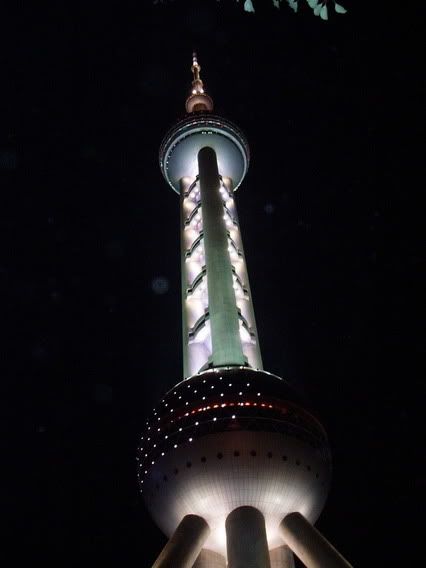 Oriental Pearl TV Tower



Me on top 263m up the Oriental Pearl TV Tower (Shanghai)

Went to the Bund river for a short while... remember The Bund???? "loooonnnggg pannnnn!! Deng deng deng! Loooonnnngg lauuuuuu... Deng deng deng!!!!" Well, there you go! We then balik-ed the hotel to retire.

The Bund... looonngg pannn... deng deng deng... looooong lauuuu... deng deng deng!

Day 8 (Monday 4/4):
6:30am - Even I felt slightly uncomfortable from all that oily food from the last 7 days. Stomach felt bad. Morning felt better. Time to pack our bags properly and check out. Had porridge again for breakfast... well, I didn't.. had eggs and corn and bread again.
Last stop before the airport, the tomb of Sun Yat Sen's wife.. forgot her name. She was the "Mother of the Revolution" in China. And then some more "promo shopping".. Feng Shui stuff. Luckily Mum only bought some small trinkets and not more!
Went to the airport, to check out. Said our goodbyes to our tour group members.

Us with our tour guide, Xiao Jiang

3:45pm - Flight back to KL. Watched two movies-on-demand on the inflight entertainment - Elektra, Six Strong Guys, and part of a Korean movie called Springtime. Inflight food... UGH.. almost similar to China food. Just rice, some bland, pathetic tasting vegetables. I even mixed the vege salad with vinegarette into the rice, and it made it taste better.
9:10pm - Reached KL... yay! Home sweet home!
That's it!