Okay okay, I know it's been long overdue.. so here it is, my report on the Penang Jazz Festival 2005.

Where? The Bayview Beach Resort, Batu Ferringhi (beach.. yayyy!)

When? 3rd and 4th December 2005

Prologue:

I decided to drive to Penang instead of taking the transport with some of the other bands. Eddie Wen came with me, and I figured, it would've been easier to move around while in Penang. We won't be tied down with going with the transport, etc.

Oh yeah, I was pretty stupid: I forgot to bring my camera.

2nd Dec - Friday

Nice indian lunch before the drive...

I started out late from my house. My initial idea was to leave between 10 - 12pm, but to pick up Eddie (Wen) at his place in Section 5 PJ. But I only woke up AT 10am (or was it 11am?), and it took me an hour to pack my stuff. Talk about taking my sweet time. I eventually got to Eddie's place at about 1:30pm, we had lunch and we took off to Penang at about 2:30pm. Talk about a real divergence from my plan.

Surprisingly, the traffic was pretty good for the whole trip. It rained here and there, but nothing too long. It was a fun drive (thanks to my brother Gavin, for lending me his Waja.. if he ever reads this), and me and Eddie were talking a lot about stuff, from music to other stuff (we haven't hung out in a long while, so it was a good time to catch up and talk stuff with him!), while listening to the loads of songs in my iPod. I got a digital sound converter cassette, which I connected to the car cassette deck, and I hooked it up with my iPod, and waaa laaa, thousands of songs without bothering about bringing lots of CDs!

We reached Penang around 5:30pm (apparently I was driving rather above the speed limit!), but took another hour to pass through the bridge and reach the hotel at Batu Ferringhi. We checked in with the Festival secretariat, and we managed to get our room keys, and hung out a fairly short while. Before meeting up with the rest of the groups for dinner, we checked out Randy Bernsen's rehearsal with the band, consisting of Mac Chew on keys, Lewis Pragasam on bass, Andy Petersen on bass, and Greg Lyons on saxes. It was quite refreshing to hear Randy's music... the sound reminds me of the fusion jazz sound I haven't heard for a long while, stuff from the mid-to-late 90s. Very nice, especially with a live group, and no sequenced drums or stuff like that. After that, we were brought to one of the Courtyard places just down the road to eat, and we got to hung out a bit with some of the different bands that were to play at the festival.

We got to meet some of the Penang musicians that were playing, namely the Penang Areca Jazz Ensemble, led by Penangite jazz cat-pianist Wilson Quah. The members range from young school students to working, but part-time musicians.

Dee-vee-dee buy one free one...

Me, Eddie and Cheryl (the Nonet's baritone sax player) then went to walk from the Courtyard all the way to the hotel (about 2km long I think). Along the side street, there were lots and lots of stalls, selling loads of stuff, from souveniers (sp?) to dee-vee-dee... pirated obviously! But one of the stalls were offering all four seasons of Star Trek: Enterprise for RM80!!!! I totally regret not buying it now.. bugger. Anyway, after walking for about an hour, I managed to find a stall selling some nice GQ-tribal shirts (the ones made in Thailand), of which I got two just for the jazz fest!

After reaching the hotel, we realised we walked pretty far!! But it was worth the fun. A jam session was happening at the time, and I got called to jam, as well (I hadn't expected to jam.. hadn't showered all day!!), but brought out my horn and played a couple of tunes. It was goodnight after that..

3rd Dec - Saturday

Soundcheck..

Woke up in time for breakfast, and met up with Greg, Sonia, John Borque, Andy, and the rest of the band at the coffee house, and just stuffed myself down with the usual continental breakfast buffet! About 10am, we did our soundcheck for the Greg Lyons Nonet on stage. While warming up with long tones and some quick warmup exercises, I thought to myself, "Nothing like waking up the neighborhood with a bunch of noisy horn players blowing and blowing, from overtone exercises to chromatic exercises!".

Dip in the pool in the hot sun..

After checking sound levels and running through all the tunes briefly, we headed to the pool to swim (it was getting pretty sunny then!). After about an hour, we went to have lunch (prepared for us!), and I got ready for my soundcheck with Sufiah. After another nice shower (it was really, REALLY hot then!), me, Eddie, and Fly just chilled in the room and slept.

Showtime..

After we woke up and got ready, we headed to the buffet room and had a nice dinner (prepared for us, too!). Caught up with the Penang Areca Jazz Ensemble as they started first, but only managed to catch the last two tunes.

Next up was Shanon Shah who did a 25-minute solo act, playing solo piano and singing some classic jazz tunes as well as re-arranged versions of pop tunes.

Sharing the stage after Shanon was Sufiah Noor, and her backup band was me on sax, Eric Li on keys, Fly on bass, and John Thomas on drums. We did 5 tunes, mostly R&B-like tunes, and one of them is Sufiah's original jazz-influenced tune, Malam. After we got off stage, it was Steve White's turn to take the stage. Steve White is a one-man band - playing guitar, harmonica, vocals, and his own custom made foot drum (which he lined into the mixers)! If there's anything, he was the only act that night that reiterated the blues, and its relationship to jazz music! Nothing like the blues...

Our turn next.. the Greg Lyons Nonet (plus one!)! The addition to the band was Sonia Croucher, who plays flute with the band. We started out with Greg's only swing-based tune, Twin Flow, followed by his 7/4 tune Out From The Shadows. Next up was another original (and one of my favorites) Forward Motion (also the title track of Greg's upcoming Nonet album), followed by another odd meter 5/4 tune Built To Last. This song had a very infectious melody, almost reminiscent of an old English folk tune. The mood was brought down quite a bit, as we did Heart Of Stone, a beautiful ballad, re-arranged for the Nonet. We ended our set with the cutting edge, and intense Bridge Of Sighs, another odd meter tune (mixed one at that, from 7/4 to 2/4 to 6/4). It ended with an inspiring and intense drum solo (you could see all the drummers that attended the fest standing off stage next to the drums, checking out every stroke that Lewis was doing!) backed by the 7/4 bassline played to a building intensity with each horn coming in every 2 bars.

The Greg Lyons Nonet were Greg Lyons (saxophones), Lewis Pragasam (drums), Andy Petersen (bass), Mac Chew (keys), Julian Chan (alto sax), Cheryl Mah (baritone sax), Sonia Croucher (flute), John Borque (trumpet), Eddie Wen (flugelhorn), and Francois Godere (trombone). All the tunes except Out From The Shadows, and Heart Of Stone are new compositions which will be out in Greg's new upcoming album.

Next up was Zailan Razak's band.. with special feature, Danial Razak, on percussions! The kid's only about 5 years old and he's already playing some percussion rather notably! On the band was Eric Li (keys), John Thomas (drums), Jimmy Sax (tenor/soprano sax), Danial Razak (percussions), and Zailan Razak (electric bass). They played various funk and latin versions of jazz tunes, which are their strong points, from A Night In Tunisia, to Freedom Jazz Dance.

The last act and the headliner for the night, was Saharadja. A world-music, fusion band from Bali, Indonesia. They played their originals, as well as re-interpretations of covers, such as Sting's Roxanne, and a couple of grooved up classical pieces! A couple of things that impressed me about the band was the bandleader and trumpet player, and one of the guitarist cum vocalist. That cat can sing soprano range with perfect pitching and tone... it almost sounded like it came from a synthesizer! Very nice feel-good music, they played! Of course, there was dancing all around by the end of their set!

Post concert - makan lah... what else?

4th Dec - Sunday

Woke up pretty much in the afternoon.

It was a relaxed day for me. Due to some technical problems, I didn't get to play for Farid Ali's Mr. Gambus Band. So the only thing Eddie and I did was go to town a little bit, had Starbucks Coffee and checked out their female barristas (woo hoo.. cute Penang chicks!), and went back to the hotel to check out Greg's Jazz Improvisation workshop.

Met some Penang sax-playing friends, and we shared some info as well as trying out my horns.

The rest of the night was just enjoying ourselves listening to the bands play.

Showtime..

First up again was the Penang Areca Jazz Ensemble, led by Wilson Quah. Still in their early stages of development, it was nice to see a bunch of people, kids and adults (read: my age group), really interested in playing jazz music! So much enthusiasm... something I have missed for a while!

Jaja (from Japan) was up next. They played their brand of smooth jazz, which wasn't my cup of tea, so I went in with Eddie to have my dinner at the buffet room, as I was getting pretty hungry. I am so mean.. ahahah... but no, I already heard them in Cotton Club two days before.

We got in just in time to see David Gomes Trio featuring Junji Gomes. It was a nice change, as they played some real good straight-ahead jazz stuff, as well as vocal jazz standards! In fact, David's band is probably the only band there playing straightahead jazz, while the other bands had more contemporary and world influences. They played tunes such as Can't Buy Me Love, Almost Like Being In Love, Bluesette (one of my fave tunes they sang that night... not an easy tune to sing.. or play!), Besame Mucho (it had us standing and dancing, that one!), the lovely ballad You Don't Know What Love Is and more. The band consisted of David Gomes (piano and voice), Junji Gomes (vocals), Charles Wong (drums) and Ruslan Imam (double bass).

Korean fusion/progressive jazz-rock group Lazy Monday tore the stage next! Only a guitar-bass-drum trio, they had a rather full sound to start off with, which is a good thing. They played mostly originals as well!

Farid Ali's Mr. Gambus band was up, and they played quite a number of Farid's originals, as well as some jazz standard covers. After a few tunes, he invited Japanese shamisen player Chie Hanawa up on stage. The shamisen is a three-stringed japanese traditional instrument, where the sound is made by plucking them using a rather large pick! She played an original tune, and collaborated with Farid to play tunes such as Take Five, My Favorite Things, and one of Farid's original tune Peace And Friendship. The Mr. Gambus Band was Farid Ali (gambus and voice), Eric Li (keys), Fly (bass), and John Thomas (drums).

The last band, and headliner for the final night, was Randy Bernsen Group - with Randy Bernsen on guitars, featuring Mac Chew on keys, Andy Petersen on bass, Lewis Pragasam on drums, and Greg Lyons on sax. Special guest vocalist Mark David also graced the stage. Randy's tunes were very reminiscent of the jazz fusion stuff from the mid-to-late 90s, with live instruments. I think, one of the key aspects to the sound of that music is the variety of sections in the songs' arrangements, complemented by solo improvisation sections. But of course, the most prominent aspect of the show was that Randy had LOTS of soul! And you could feel it in the music.

The second last tune had special guest Zainal Abidin on vocals and percussion. It's noteworthy to know, that Randy had come and performed in KL many years back, many times. And one of his collaborations included Zainal Abidin as well as Sheila Majid (back in the RAP hey-days).

The finale had me, Eddie, Rio (the trumpet player from Saharadja), and Mark David jamming with the Randy Bernsen Group on Stevie Wonder's Superstition, and it was the party finale, with the audience dancing on the floor in front of the stage! And we all got the chance to play and solo as well. Greg and Rio took individual solos, while me and Eddie decided to do the trade solos, call-and-response kinda thing! That had the audience goin' wild... Yeah!!!

Post concert - we jammed some more at the Swing Pub with some of the Penang cats, Farid, and Randy Bernsen. Then it was makan time. And we all slept through the night.

5th Dec - Monday

I am soooo not a morning person...

Woke up just in time just before the breakfast buffet ended. And I didn't see the usual cats there having breakfast, so I almost had breakfast alone, until Sonia came down. We had breakfast together, and my other mama, Salamiah Hassan (who came with David and Junji), joined us slightly later as well. Then I met up with David, Junji and Charles, and we went to one of the dim sum place a short drive from the hotel (although I only had a drink then).

I didn't want to go back just yet, as I was in a chillout mood the whole day. So I was a little heavy hearted on packing and having to drive all the way back to KL.

This time around, Charles, John and his girlfriend Yin Yee, got a lift back in my car along with Eddie. We joined Greg and wife June, Randy, Andy and daughter Anusha, Peter Lee (president of the Hong Kong Jazz Association), for a nasi kandar lunch. And we drove back home around almost 5pm.

The ride home..

After a rather gruelling drive back to KL, we stopped by Eddie's restaurant at Sec. 5, PJ to have a nice hot chinese home-cooked meal! Eddie drove John and Yin Yee back, while I dropped Charles off back at his place.

Epilogue:

It was just great fun in Penang. I thoroughly enjoyed my stay at the Bayview Beach (thanks Paul!). I hope that this year's festival will warrant next year's! I think a lot of us are really looking forward to it.

Hmmm.. if only they could've sponsored one more day, just to chill out...

Here are some pics that I got from other people's camera.. enjoy:





gosh, I'm still too fat dammit!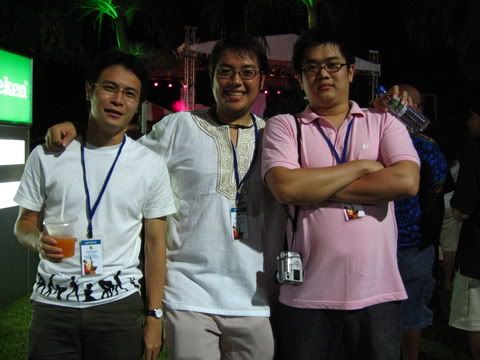 The Three Stooges - Charles, me, and Eddie



Me contemplating the future..??



The band watches as Greg plays till he turns blue..



Greg making fun of the band.. ahah..no, introduction of the band.
More pictures later!
Pictures courtesy of Sun (Black Machine Productions).