If you didn't know already, my, no... our pianist, and close friend, Justin Lim will be leaving for the US of A tonight, 11 Aug 2005, to further his studies at Pennsylvania State University. He'll be studying for his Masters in Composition. He'll be there for at least two years.
We're going to miss him... badly! AHahhaa... but it'll be great for him, for sure. And we're definitely happy for him for that. Most of us probably know, he'll stand to learn more and get much more out of going to a place like US than sticking around KL at the moment.
Okay, so it's just 2 over years, nothing to be too sad about. But that's how it is, a departure, for quite a while. Sad, but happy as well. But anyway, I first met the cat way back in '98, after I got to know my bass player AJ. AJ was still studying in UPM then, and he's already got to know Justin, so I was introduced to him after that. I think we started jamming and stuff. But it was only after I got back from my studies in Australia in 2000, that I actually had met up with him more, especially when the band I was playing in then, Vincent Ong's Black Machine, "recruited" him to play in it as well.
It was after that, things started rolling musically for all of us. I also "recruited" him to be with our band, Happy People Quintet. And we did a lot of nice, interesting stuff the last 3 years or so. We played them festivals like Sunrise Jazz Fest, Fete de La Musique, and Johor Bahru Jazz Fest, and other smaller shows in No Black Tie, Alexis Bistro, and Avanti's. A few more jazz gigs we used to do were Café Flam in Sunway, and the now defunct Jazz Bar @ Orange Pub.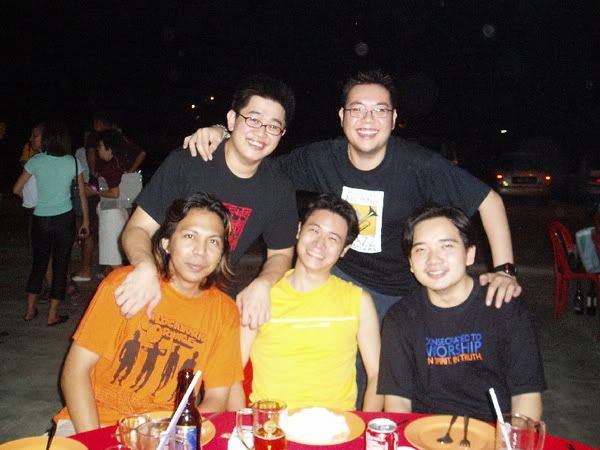 The Happy People boys!
But at the same time, we also got him to do other gigs with us, and later on he with other bands and other musicians. Later on, after really kicking in his chops (his musicality and "soul" has always been there...can't teach something like that for sure), he got "recruited" by the many-young-musicians' teacher, saxophone player and jazz musician, Greg Lyons. And he's been staple in his band ever since. At the same time, he's also played with other various jazz icons in KL.
He's also have had other projects of his own, like his Christian pop-rock band Her Reverie. From piano and keyboards, to guitar, he's did it, man!!
He's always managed to inject his soul, and tastefulness in any band he plays in. A real musician...one who's really adept in listening and adapting to the situation. As a musician, he's got beautiful taste and it shows in his playing, and how he adapts and complements the band. Even when he's improvising, you can see and hear how tasteful he is. He knows when to play, and when not to, and what to play, and that shows you how much he listens to everyone.
But out of the music spectrum, he's also a great friend. If you're on his Friendster list, or if he's in yours, check out his list of friends... and their testimonials! From my own personal experience with him as a friend, he's a great listener (in and out of music), patient, sensitive, objective but yet focused on his own goals. You might think he's a quiet, sombre guy the first time you meet him. But I can TELL YOU... he's da DEVIL MONKEY SUPER CHOW YUN FATT in disguise!! AHahah... well one way to know for sure... feed him some wine (and for once, last sunday, Guiness Stout! Shhhhhh!!). He's fast and witty, and comes up with the most crack-you-up lines!

Justin and Debbie
But most of all, he's one of the most honest and sincere person I've ever met! Dude, I really enjoy some of our mamak conversations we've had!! Thanks for putting up with my endless rants and my sometimes overbearing character! Haahaha.. but also, thanks for some of the advice and thoughts you've given me to solve some of those problems...you know what I'm talkin' about!
To Justin: Anyway, we hope you'll come back to Malaysia, for sure. At the same time, I hope you don't come back TOO quickly, too. If you have the chance to be doing some really interesting stuff even after your studies, do it, man!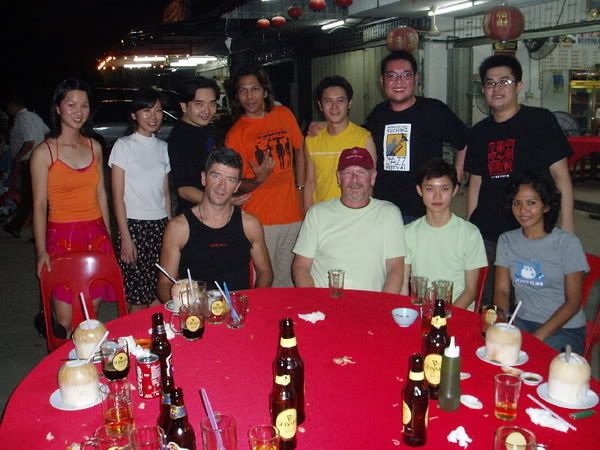 The Brady Bunch
*sniff sniff* We're AAAAAAAAALLLLLLLLLLLLLLLLLLLL gonna miss you, man!!!
Do keep in touch with us, and I know you will. Keep us up to speed with what's happening with you there. Or even better, do up a blog, man! At least you can update us, and don't have to send a single mail, doing it! Well, of course, except for you know who lah.
Good luck for your studies and adventures in the US, bro... we wish you all the best!!! I hope to be seeing you next year (if I get my sh*t together) in NY or Penn State.
---------------------------------------------------------
P.S: All the pictures you've seen were taken at Kam Kee's Seafood Restaurant in Section 5, Petaling Jaya. The restaurant is owned by our good friend and trumpet player Eddie Wen's dad. We would like to thank Eddie for graciously hosting Justin's farewell dinner last Sunday on the 7th August. By the way, the food there is GREAATT!!! Y'all gotta go try it. I'm a vegetarian, but the stuff his dad can cook for me already is awesome!
P.P.S: We'll be sending Justin off at KLIA tonight.
P.P.P.S: Forgive me for looking like a lobster in one pic and looking like I had shoe shine on my face in another.. that's me on my first full glass of Guiness Stout (nicer to drink than beer, mind you).