This is just gonna be one of those mindless posts, that I'll occasionally write. That's really because I just don't have anything much to write about. But I'll be keeping it brief.
Inside Man
Watched Spike Lee's Inside Man last week while at KLCC. Really good movie to check out... for most part Spike Lee never fails to kick some intellectual butt with his movies. Some of his notables include Mo' Better Blues (one of my favorites, about the rise and fall of a jazz trumpet player, played amazingly -down to the instrument fingerings - by Denzel Washington), Do The Right Thing, and some others.
Inside Man stars (no surprise) Denzel Washington, Jodie Foster, and Clive Owen. The short of it is about the perfect bank heist by a Dalton Russell (Clive Owen), and police negotiator Denzel Washington trying to work out the situation. However, there's more than meets the eye than just a bank heist, as the appearance of Jodie Foster's character - that somehow has a large influence with top guns in country - to try to defuse the situation with the bank heist perpetrators.
The storyline seemed straight-forward for most part, but the underlying message hits right in your face - Spike Lee-style.
Good movie to check out.. and the soundtrack was awesome! It was written by Terence Blanchard (also a notable jazz trumpet player and Spike Lee's musical confidante in a lot of his movies).
New Blog: Julian Runs!
I've decided on opening up a new blog just to write about my less-than-notable athletic pursuits! So check it out at
http://fathlete.blogspot.com
.
I have to admit, my athletic pursuits have taken a little bit of a backseat, ever since the KL International Marathon. But that's the trade-off that happens sometimes with my job. Like they say, when it rains, it pours. So the last couple of weeks have been just work, and more work. Shows, gigs, preparing for gigs, and teaching as well.
I've got a plan to take a week off and spend it in PD, in May. I'm gonna bring my bike, running shoes, and swimming trunks. In addition, my saxophone, flute, and my keyboard and also some books will be in my backpack. All I'm planning to do is swim-bike-run-practice-eat-sleep-read for the whole week.
See how that goes.
All Souls' Day
Although the ching ming day was two weeks ago, we only went to visit our ancestors' graves just recently on Sunday. One trip was to Nirwana Memorial Park and another in the Sg Kantan cemetary in Kajang.
The general impression of Chinese business-folk is that they will try to cut costs in making their products or services, up to the point of selling inferior products.
How true, for most part.
Well, we were visiting one of the graves, we usually put those white, long-burning candles on the sides of the grave and light it up. Those are the same candles that we'd usually use if there was a power outage in our house. So my dad got these Twin Horse Candles from GIANT Supermarket in Kelana Jaya (last minute, as usual). As we proceeded to light those candles, they started bending like it was Play-Doh! We couldn't even get it to stand properly, because as they burn they started bending and just drooped!! TALK ABOUT CHEAP SKATE!
Check out these pictures and see how lame they were.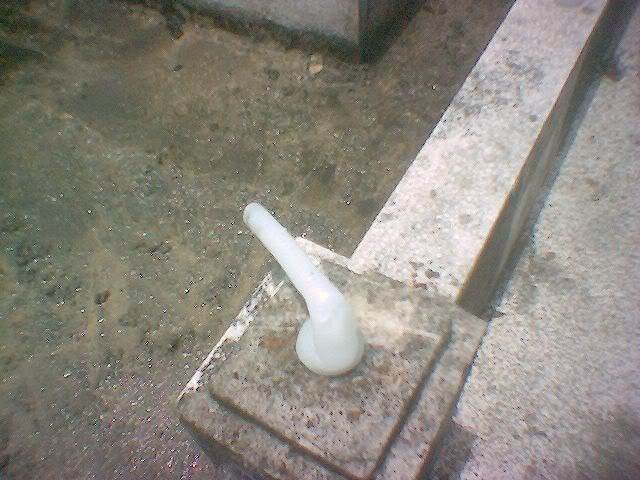 Should complain to the Malaysian Consumer Association! At least have respect for the dead. Chinese bastards. Note: I'm not Chinese.. well, I am.. but more like anything else other than Chinese.. BANANA!! I would say, I'm Chinese, but I definitely admit to some of the pathetic traits of the Chinese people. This is one of them.
Well.. that's all.
Next time.