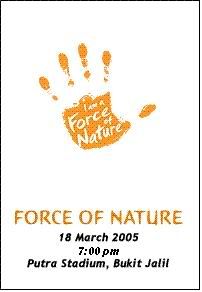 Force Of Nature

Did you go for that one?

I did..

.. although I didn't expect I would.

How'd that happen? Let me tell you:

Thursday 17 March:

Approximately 9:30pm: I had just finished teaching some students. I was due to meet my japanese friend Izumi, for a farewell dinner. She was going back to Japan the next morning. I got a phone call from a guy named Paul. He asked me if I could gather a horn section for a show... the tsunami aid concert show tomorrow (Friday).
*blink blink* my eyes went.
I asked him, "Did you say the show was TOMORROW??". He said, "Yes." *blink blink* my eyes went again.
He told me we were gonna play one song, called Love and Happiness by Al Green, for Eric Benet. *blink blink* again. He asked me if I knew who he is, and I said of course! And he seemed happy that I knew him by name, and asked if I was interested, so I said yeah. I said it might be difficult to get a horn section at such short notice... it was crazy, but sometimes we musicians and artists do crazy things sometimes anyway.
I had trouble finding players, of course. My regular trumpet player, Eddie was in Bangkok. Another trumpet player I know from Canada had a gig that day. Finally Paul managed to get a trombone player from the Petronas group, and two trumpeters from Lauryn Hill's band.
Friday 18 March:
Went to Stadium Putra, Bukit Jalil at 11am for the rehearsal cum soundcheck. I met the horn section for Eric Benet: myself, Jessie on trombone, and two of the afro-american trumpet players from Lauryn's band. On the way, I had listened to the song Love and Happiness on a CD I burned from my PC. Lucky me. Met Eric Benet (nice guy), and also Ruth Sahanaya, as her Malaysian band was backing her up for the show: Mac Chew on keys, Zailan Razak on bass (and Musical Director), Lewis Pragasam on bass, Aji on guitars, and some others (can't remember their names la).
Me and the other horn players ran through the horn lines in the song briefly, and we did our soundcheck and ran through the form for the song. Easy job!
Later I went home, relaxed, then went out to Taman Tun to teach, then rushed to Bukit Jalil again. When I reached there, I saw some of the artists around, like locals Sheila Majid, Ruffedge and V.E, Ruth, Dayang and Anuar Zain. I also saw Lauryn (on stage), Black Eyed Peas, Wyclef Jean, Jackie Chan, Nicholas Tse, Michelle Yeoh, Carmen Electra (hot!), Paula Abdul, Ken Watanabe (of The Last Samurai fame), Backstreet Boys, some fellas from N'Sync, Jody Watley, and Boyz II Men.
After waiting for a couple of hours, it was our turn to play. We went up, played one song in front of 10,000 (could be more) people and that was it. My 5-minutes of fame.
Then I continued to check out Wyclef Jean (probably the best show of the night, as well as Lauryn Hill's.. check out her 15-over piece band!), and even the Backstreet Boys. BSB, well... can't say much about their singing, it was alright (in tune at least), but they did put up a good show. No surprise about the screaming girls abound.
Cool huh..? By chance, really. Thank God for that. The night before, it was 50-50 situation: it might happen, it might not happen. And I'm pretty glad it did. At least, can get some contacts.
Here are some pics that I managed to take: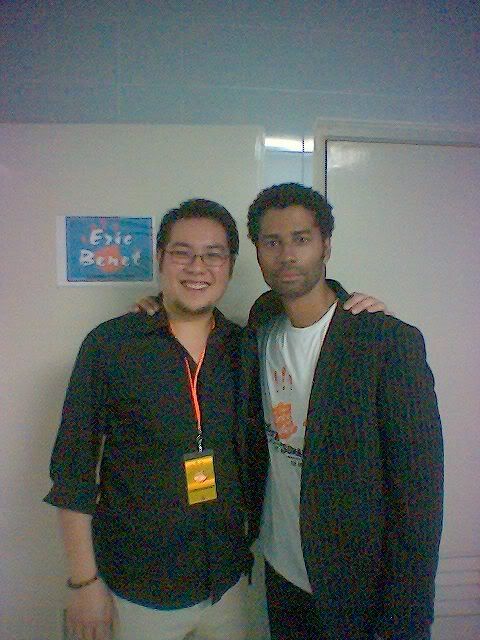 Me and Eric Benet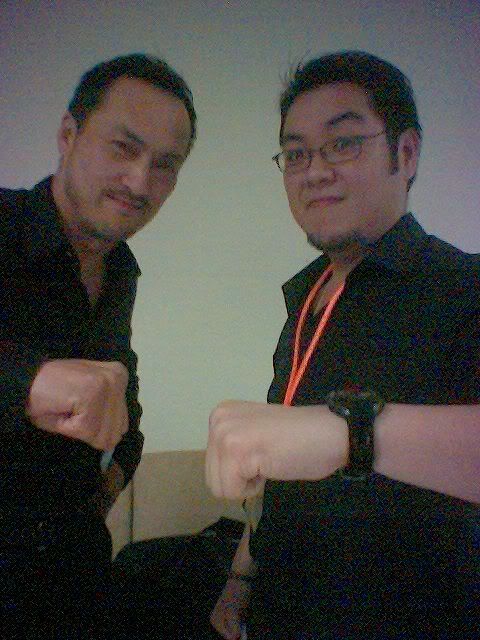 Me and Ken Watanabe
What a cool weekend.