90km bike ride @ Putrajaya

Met up Azwar, Ajeep, and Tank at Taman Warisan, Putrajaya, at 10pm last night to do a 90km bike ride around the Powerman loop. We started around 10:30pm, and started easy from Taman Warisan. The first loop and second loop was a fairly easy ride, except for some uphills, where we pushed a little bit to climb it. We were pretty much chatting a little bit here and there and just enjoying the cool air of night. After the end of the second loop, Tank decided to call it a day, and the three of us decided to push on.

The third loop was a challenging one, as Azwar finally decided to hit the gas to full effort at race pace. Me and Ajeep also started to really push the pace more. Ajeep was kind enough to ride with me, as I was comparatively slower. This last 30km loop was pretty much done at higher effort, and at some of the hills, I was going up at least 85% effort. Some of my last few climbs of the final loop was done pretty slowly, as I started to feel spent from the constant effort of this loop. And my previous max distance for a bike ride was 60k. So I was kind of pushing it a little bit more than I probably should, but what the heck... sometimes it's good to push oneself to some limit.

We took about 3 hours 55 minutes to complete the 83km course. I was almost spent when I finished. I was also exhilirated at the same time. My first night ride, and a long one at that. From my bike computer, I probably used up 1261.2 calories from last night's ride! Woo hoo. After we cooled off, the three of us (Tank decided to head home) went to Sg. Ramal to have some post-workout grub, and I had a thosai telur, a roti telur, and two mugs of teh tarik.

I went home, took a nice hot shower, and just plonked on my bed! What a night.

Breakfast with ex-Primers

I was woken up this morning when KT called me up to tell me that we were supposed to meet up with some ex-Prime College mates for breakfast at La Bodega, Bangsar. I totally forgot, KT only mentioned to me once, and I thought he might have reminded me. He was supposed to have called me.. Ehehehe.. gotcha mate!! Anyway, I dragged myself out of bed anyhow and met up with them there.

Keng Yoong (just came back from UK for a wedding), Mei Yee (Keng Yoong's friend), Patt (who was back from Singapore for a weekend stint), KT, Hui Sein, Desmond, and myself were in attendance. I haven't seen KY, Patt for quite a while now. Nice to see some of them again. It'll be awhile again, before I'll get to see them! Hahahah...

Wong Ah Thiam @ Ironman World Championships in Kona, Hawaii

Just as I was typing this post, I wanted to check out the live broadcast of the Ironman World Championship in Kona, Hawaii on
www.ironmanlive.com
. As I tuned in, the race was pretty much in its last hour or two, where all the last few triathletes were coming in from the race. Means the race started about 16 hours ago from publishing time. So I think it started at around 1am.

Anyway, I checked the results, and I was shocked and happy to find out our local triathlete, and former national cyclist, Wong Ah Thiam, was in Kona! I wasn't sure if he went, but I'm certainly happy he managed to go!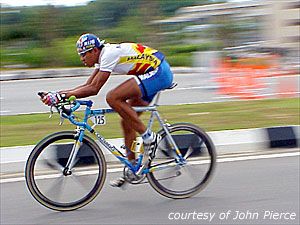 He managed to get the 784th position at 10 hours, 43 minutes and 28 seconds.
His timing were: Swim (2.4mi or 3.84km) 1:13:43, Bike (112 mil or 180km) 5:26:17, and Run (26.2 mi or 42.2km) 3:52:59.
CONGRATULATIONS Ah Thiam... Good job!! That's one for Malaysia!!!