I had just got back from my long bike ride. I went to the Hulu Langat route again. My initial plan was to do 60k like my
previous Hulu Langat ride
.

When I got to the 30k point, I decided to continue on rather than doubling back. I saw the side road sign, saying Kajang was another (approximately 40k). So I thought to myself, "what the heck, let's just go straight and go all the way back to Kajang from this way". I basically knew where the route will end up: basically passes the Nirwana Memorial Park and out to Semenyih, and turns right on Jalan Semenyih to go back to Kajang.

The first half of the ride wasn't as interesting as the second half. I didn't like the puddles from last night's rain, and basically my bike and some parts of my bike gear was soiled from mud puddles. It was a fairly easy ride, for me.

Here are some picks from before the 30k point, this is in 14th Mile, Sg. Lui, Hulu Langat: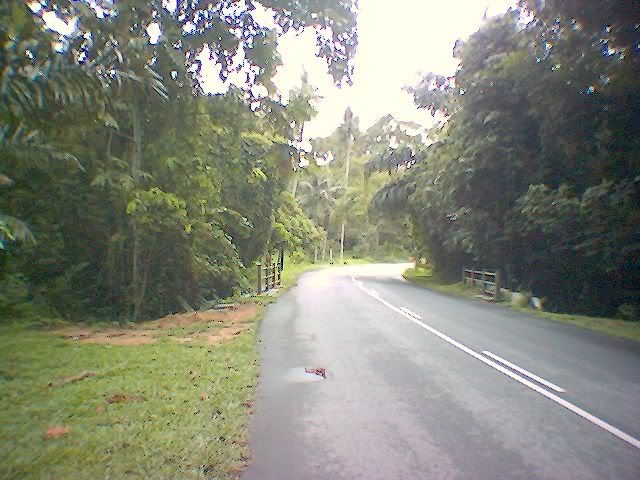 You could see that it's pretty quiet on Sundays. Which is great for cyclists, I definitely saw several groups riding past me on the opposite side.
After several kilometres past the 30k point, I was shifting some gears as I was approaching a slight incline. My chains skipped gears and it came out from the cranks. At the time, I lost momentum and was just stopping. And it was then I realised I was still clipped on the pedals! I couldn't remove shoes in time, and next thing I knew, I FELL! I fell to the left on the grass and grime. What was more embarrasing was there was a house under construction right ahead of where I fell, and there were several workers. I wasn't sure whether they saw me, but I don't think they gave a damn (even if they did notice me, I think). After brushing off sand and grass from my hands and legs and wherever, I fixed my chain and continued my ride.
Just as I was cruising nicely, I saw up ahead, the T-junction to which lead to Semenyih. But before that T-junction was a fairly high slope! I was like, "Oh, sh*t..", and next thing I knew I was down to my smallest gears and slowly climbing up just to that junction. I turned right, which heads to Semenyih, but right after that turning, is another uphill! Oh my god...tough, man!! And you know me, I'm heavy, so I'm so bad with hills. I made another totally stupid mistake, I wanted to stop and adjust my pants. So I unclipped myself, and I had trouble trying to start up the hill halfway! Just at that moment, a bunch of training professional cyclists (with support car, even), just passed me on the opposite side of the road, all enjoying the downhill and watching me struggle trying to clip my shoe in and start up the hill! Malu siut... (embarrassed like hell!).
After climbing that hill, I came across a few flat parts and some other uphills which I handled okay, just by climbing slowly with all small gears. There were even a few downhills which were really fun to go through, as they were really smooth downhills and I was going at about 60km/h, and how exhilirating it was!!
Later on, I realised my rear tyre was running out of air! I stopped at the side of the road, just overlooking the Hulu Langat dam, so I could pump air into my tyre (and take my PowerGel to get some energy boost). After pumping it, I took another two pictures:
I then proceeded to continue cycling. I stopped another two more times to pump the rear tyre, as it kept getting flat. I passed Nirwana Memorial Park and I'd expected another 6 - 8km before I reach Semenyih at the Jalan Semenyih junction. At this point I was still cruising at around 25 - 30km/h. All of a sudden, a cyclist passed me from behind. We exchanged greetings. I was rather flabbergasted... he was on a mountain bike! Here I was on a road bike, and I was being overtaken by a mountain biker! Pretty embarrassing, actually. But then again, this guy might have been riding for a long time, and he seems to be hitting to really big gears. I tried to tail and overtake him, but I couldn't, as the road surface wasn't that smooth, and I didn't want to further stress my tyre.
After turning right into Jalan Semenyih heading to Kajang, my rear tyre finally gave way, and coincidentally (or maybe not, it could be just divine intervention... if you believe this stuff, and somehow I think it might be), it was right before a ProJet petrol station! I got off the bike, removed my shoes, and walked to the station. I then sat at the patio with tables and chairs, and proceeded to change my tyre tubes. It's my first time changing them tubes, and it took me about half an hour, I think.
Met up with KT when I cycled to his place (on the way back home), and had a small lunch. I left my bike at his house, and when I came back to get it, it was still flat again!! We both examined the tyre, and we found a small little pebble stuck in the outer rubber tyre which caused both old and new tube to puncture! So I had wasted one tube. Bugger. Luckily, I bring two spare tubes, so we KT helped me as well to change to a new tube again (KT: Never trust the book, entirely). I also used up one CO2 (carbon dioxide) cartridge to fill up my tyre with air.
I rode home after that.
Talk about a ride with experience. I learnt how to change a flat, and even had my FIRST EVER fall on my bike. Well, I was quite happy actually, that I learnt a couple of new things today.
So here's a summary of my ride today:
Route: Kajang -->Hulu Langat, Sg. Lui --> Semenyih --> Kajang
Distance: 70km
Riding time: 3 hours
Starting time: 8am
Average speed: 23.6km/h
Max speed: 61.3km/h
Calories burnt: 1261.o kj
Average heart rate: 145 bpm (75% of max HR)
Max heart rate: 177 bpm (91.7% of max HR)
Till the next time! Have a good weekend y'all.