... I got a LIVESTRONG™ band!!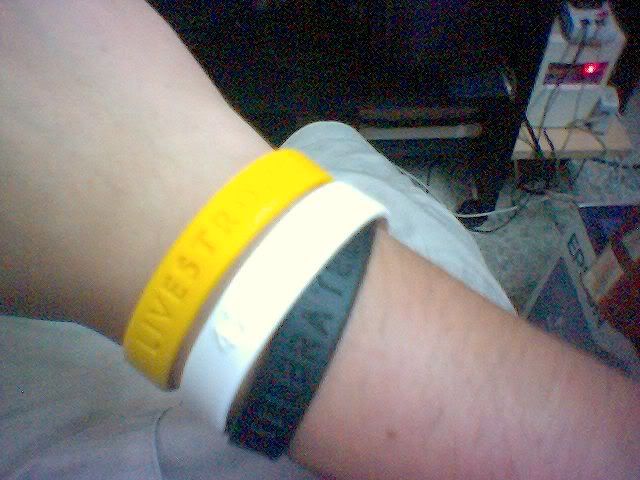 I got this off Edwin's (Joo Ngan's Bike Shop in Uptown, PJ) yesterday, when I sent my bike for a monthly tune and check-up. Paid rm15 for it... but it's original (despite the fact it's made in China.. bollocks). It cost that price, simply because of shipping costs. The Lance Armstrong Foundation store does not ship their merchandise to Malaysia (awww, come on Lance.. you got lotsa supporters here, man!), so he had them shipped to Australia, and then to Kuala Lumpur. The bands actually cost US$1 a piece, but it's sold in packs of 10s, 100s, and 1200s. So now my right wrist is highly decorated with Malaysian Cancer Society's black and white CELEBRATE LIFE and LAF's LIVESTRONG™ band.
If you're interested in getting the wristband, go to Joo Ngan's Bicycle Shop in Damansara Uptown, PJ SS21 to get yours now. Edwin Ng (son of Ng Joo Ngan, national cycling coach) runs the place. So drop by, have your bike fixed, and say hi to the guy. Nice cat, he is.
* * * * *
On another note, I also managed to get Siti Nurhaliza's Royal Albert Hall performance on VCD yesterday.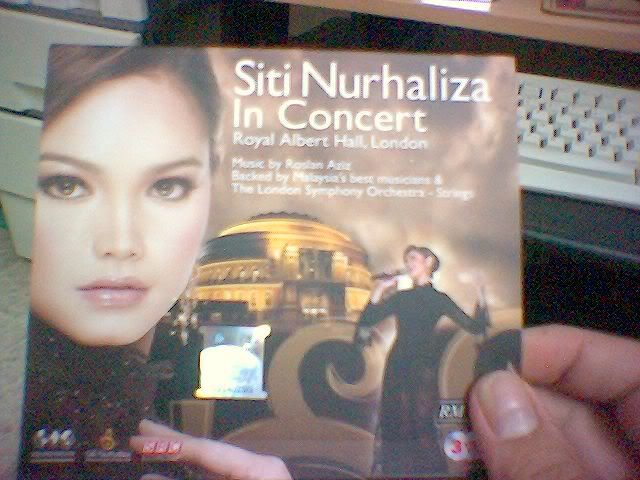 *blink blink*
You must be thinking? WHAT? Julian watch Siti Nurhaliza? Julian's a fan, meh?
Well, I'm not a big fan of Siti or whatever. I'm definitely not into the Siti craze. I mainly got it to check out the show. I saw parts of it during their stage rehearsals at PWTC, and it was pretty amazing. The whole crew, the musicians, dancers, sound people, producers, etc, worked for several months to get this show on the road. And from what I saw in the VCD, the hard definitely paid off.
Anyway, my teacher, boss, friend Greg Lyons and a whole other bunch of top-notch Malaysian musicians played on that show. Cats like Aubrey Suwito, my friend Jason Woo, the distinguished Andy Petersen, Zahid Ahmad, me Aussie mate Jamie Wilson, seruling (bamboo flute) player Kesavan (also from Aseana Percussion Unit), and others.
The show was musically directed by Roslan Aziz, a visionary in his own right.
Anyway, my comments on the concert: It was simply AWESOME! The whole production was definitely fantastic. First things first, to have a Malaysian act to go into RAH in this scale is already quite a historical achievement for Malaysia. Siti is a real class act, her voice definitely unique. And from what I've been told, she works really extra hard... going for so many rehearsals (more than what other artistes would be normally comfortable with). And in each rehearsal, she gives it 101%. That's so un-Malaysian...which in this case is a good thing! Fantastic working attitude.
By the way, I got the VCD ORIGINAL!!! For RM29.90. So if you're interested in watching a good show, or a Siti friend fan, get the original, and support the local music industry. I think the DVD will be coming out soon. And I heard the mixing will be better. So look out for that one too.
* * * * *
Sh*t.. didn't run today. Was planning to run in KLCC park, but it was raining, even before I wanted to leave home. Got that info from a friend living in KL. Argh, will try to do a ride the morning and a run in the evening (hopefully) tomorrow.
Oh yeah, I just updated my gig listings again. Check out the Upcoming Performances section for the revised dates. Hopefully you can come and watch some of it.
Later peepz..